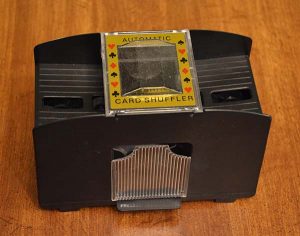 Our family really enjoys card games, especially the game of Hand and Foot. Playing this particular game involves the use of multiple decks of cards.  Having an automatic card shuffler makes the game much more fun, because you don't have to spend so much time shuffling the cards.
   We have purchased multiple card shufflers over the years, at a cost of around 15.00 dollars each. That's not very expensive you say?  Automatic card shufflers seem to work for a very short period of time, before they start giving problems. They appear to be poorly designed. So, out of necessity we have learned a great deal about repairing automatic card shufflers.  To see how, view our video on Automatic Card Shuffler Repair.
   The repair of these automatic shufflers requires thinking outside the box and being innovative with your solutions.  We use wooden toothpicks in one repair!  In our Do It Yourself with Wayne video demonstrating the repair of automatic card shufflers you will learn more about that.  We will show you how to take the cover off of the automatic shuffler to access the internal workings.  We will address various problems you may encounter, and offer solutions.
   We hope you find our video helpful and will subscribe to our channel.    
If you find our video helpful, please use the link below to go to our YouTube Channel and click like on the video and subscribe to our channel.