Fall is on it's way and if you have a wood stove, It's wood stove flue cleaning time! Don't wait until you need to use your wood stove to clean the flue. It's best to get it done early. After cleaning the stove and the flue, go ahead and set you starter wood in it. This will make it much easer when the time comes to light the fire.
In this video, wood stove flue cleaning time, I will demonstrate cleaning my flue. I will start at the top and remove the flue cap. I then go over the tools I use to clean the flue and how I use them. Then I demonstrate using them. The creosote buildup is crusty but not too messy. I then clean the flue cap and install it on the flue.
After getting off the roof, I go inside to clean out the wood stove. There is a little more discussion about the procedure and finishing up.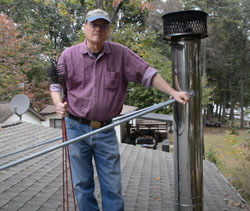 Please subscribe to our YouTube Channel and click on LIKE on our videos.


Thank you for visiting and have a great day.

This video is NOT sponsored. Some product links are affiliate links which means if you buy something we'll receive a small commission.

Below are links to the equipment we used making this video.
Equipment and software used in making this video:
Canon 90D DSLR
GoPro HERO9 Black
Rode Wireless Go Microphone
Neewer LED Video Light kit
3 Legged Thing, Brian
Camtasia 2022
Adobe Creative Cloud
Adobe Photoshop

Please give this video a THUMBS UP and SHARE it with your friends.
Please LIKE and SUBSCRIBE Support from viewers like you is what keeps us going.
Thank you for your support.

Visit us on Facebook:

The focus of our YouTube Channel is to help you save money by doing things yourself!

Please visit our new YouTube Channel
Bucket List Time with Ann and Wayne