Click here to see my Chimney Sweep video.
In this video I go over cleaning my chimney / Flue. I also talk about when to clean my chimney and why. If you have a good wood stove and burn pine (especially green pine) it will be needed a LOT more often. In my case I burned pine for most of 2 years and my chimney required cleaning about once a month. If I went longer I would risk a chimney fire. In fact this did happen on 1 occasion. I would also have a problem with the topper on my chimney getting so clogged that smoke could not get out. This caused my stove to smoke up my house.

If you burn well dried hardwood, once a year should be adequate. That is what I am burning now and there is little creosote build up. The creosote build up is what needs to be cleaned out before it builds up and causes a problem. In this video I show cleaning my chimney and examples of the creosote I get out of it.

If you have a fireplace, you will have a lot less buildup of creosote. This is because there will be a faster draft going up the chimney and the creosote does not have as much time in the chimney.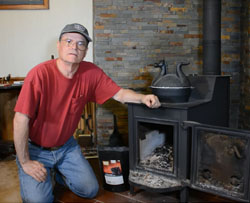 Learn when to clean your chimney and how here!
Please subscribe to our YouTube Channel and click on LIKE on our videos.

Thank you for visiting and have a great day.

This video is NOT sponsored. Some product links are affiliate links which means if you buy something we'll receive a small commission.

Below are links to the equipment we used making this video.
Nikon D7100 DSLR
GoPro HERO9 Black:
Rode Wireless Go Microphone
Neewer LED Video Light kit
We also have a new camera, a Canon 90D, we will be making 4K video with this camera

Please give this video a THUMBS UP and SHARE it with your friends.
Please LIKE and SUBSCRIBE Support from viewers like you is what keeps us going.
Thank you for your support.

Visit us on Facebook:

The focus of our YouTube Channel is to help you save money by doing things yourself!

Please visit our new YouTube Channel
Bucket List Time with Ann and Wayne

Back to our BLOG's

Thank you