In this video, I will explain how to sharpen scissors and how it is different from sharpening a knife. Also tips on what sharpener to buy. Scissors can be sharpened by a novice user. They are not difficult to sharpen and only require a simple tool. This video will walk you through the technique to get a good edge on your dull scissors.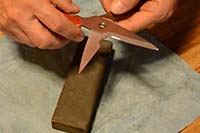 Please give this video a THUMBS UP and SHARE it with your friends.
Please LIKE and SUBSCRIBE
Support from viewers like you is what keeps us going.
Thank you for your support.
This video is NOT sponsored.
Some product links are affiliate links which means if you buy something we'll receive a small commission.
Please visit us on YouTube: DIYwithWayne

The focus of our YouTube Channel is to help you save money by doing things yourself!
Thank you for visiting and have a great day!
Wayne